Last Updated on
Just so you know, this post may contain affiliate links. This means if you make a purchase through links on this page, Canine Weekly may collect a share of the sale or other compensation. As an Amazon Associate, we earn from qualifying purchases.
Canned dog food is all-purpose. It can be used as a main meal, a food topper or even a midday snack for Fido.
Canned food is also beneficial for senior dogs, those who've lost teeth, or pups with medical conditions that make it difficult to eat solid kibble. Over time, wet food has become an extremely popular way to enhance boring meals.
We've put together a guide of the best canned dog food brands. We highlight our favorites, along with notable features of each one. Whether you have a puppy or senior in their golden years, we're confident you'll find great food from our list.
Let's jump right into the best canned dog food brands of 2020!
Best Canned Dog Foods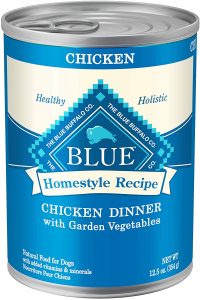 Blue Buffalo canned dog food is made with hearty ingredients, and it never contains wheat. Perfect for pups with sensitive stomachs!
Notable Qualities and Features:
Real chicken is the #1 ingredient.
Enhanced with vitamins and minerals.
No byproduct meals, or corn, wheat or soy.
Pate style wet food.
Top Ingredients: Chicken, Chicken Broth, Chicken Liver, Carrots, Peas, Sweet Potatoes, Brown Rice, Barley, Oatmeal, Guar Gum, Potassium Chloride, Salt, Flaxseed, Blueberries, Cranberries
User Review: "My wonderful service dog, Clover, is getting older and is ill. She has little appetite. I purchased the canned food hoping she would eat. She loves it! I add some to warm water and use it as "gravy" on her Blue Buffalo dry food. She cleaned her bowl!"
Bottom Line: Blue Buffalo canned food is extremely popular in the dog parent community. It is high-quality, wholesome and rich in taste. Blue Buffalo canned food comes in a variety of consistencies and recipes.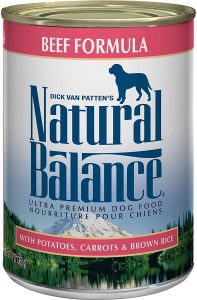 Made with real beef, this delicious canned dog food is formulated to promote healthy digestion and support overall health.
Notable Qualities and Features:
Made with carrots, potatoes and brown rice.
Appropriate for all life stages.
Provides amino acids to maintain strong muscles.
Great for any dog breed.
Top Ingredients: Beef, Beef Broth, Beef Liver, Potatoes, Carrots, Brown Rice, Oat Bran, Canola Oil (preserved with mixed tocopherols), Dehydrated Potatoes, Vitamins
User Review: "I have had no issues with dry flaky skin, no reactions to the food, and this food has kept my dogs healthy, and for that, I am very pleased. I would definitely recommend this Natural Balance Ultra Premium Wet dog food formula to anyone who is in search of good quality canned dog food."
Bottom Line: Natural Balance is a premium canned dog food made with beef as the first ingredient. It contains sources of highly digestible carbohydrates to promote your dog's wellbeing. Dog parents can choose from an array of Natural Balance recipes, including grain-free and limited ingredients.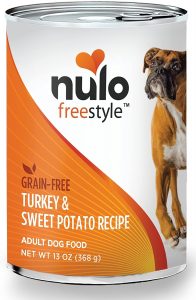 Nulo canned dog food is suitable for pups of all ages! Each can of Nulo food is grain-free.
Notable Qualities and Features:
Available in eight different flavor varieties.
Reduced carbohydrate intake for weight management.
Nulo is made in the USA.
High protein diet with vitamins, minerals and antioxidants to boost the immune system.
Top Ingredients: Chicken, chicken broth, chicken liver, carrots, peas, ground flax seed, guar gum, potassium chloride
User Review: "My puppy loves his Nulo food. His stool is always solid. We use the dry food as well and he eats every single bite. I definitely recommend this product."
Bottom Line: Nulo is packed with protein to support your active dog's overall health. A delectable blend of quality proteins and low glycemic carbs provides all of the nutrition your pup needs to thrive. We love that Nulo is made in the USA.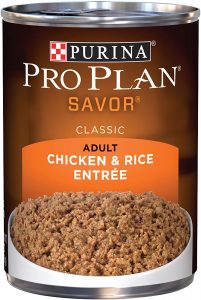 Purina Pro Plan canned wet food is a standard pate consistency that is available in a wide array of flavors and can sizes.
Notable Qualities and Features:
Real meat is the #1 ingredient.
Formulated with 23 beneficial vitamins and minerals.
Promotes skin and coat by way of Omega fatty acids.
Rich in antioxidants to boost your dog's immune system.
Top Ingredients: Chicken, Water Sufficient For Processing, Liver, Meat By-Product, Rice, Guar Gum, Potassium Chloride, Salt, Carrageenan, Added Color, Calcium Carbonate, Vitamin E Supplement
User Review: "Had issues with my dog excessively licking parts of her to the point of red and bleeding. I changed her food to this brand, wet and dry, and the issue has gone away. I'm very happy with it."
Bottom Line: Purina Pro Plan canned dog food is a traditional yet nutritious and delicious option for dogs of all ages. It's a cost-effective choice if you give your pup wet food every day. Purina Pro Plan offers a few different types of canned dog food.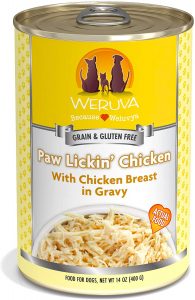 Weruva natural wet dog food consists of delicious chicken breast shreds in a yummy gravy sauce. It's a welcome change from standard pate dog food.
Notable Qualities and Features:
Made with boneless, skinless, white meat chicken.
Grain-free and easy to digest.
Available in 5.5oz or 14oz cans.
Crafted with high-quality ingredients.
Top Ingredients: Chicken (boneless, skinless breast), chicken broth, sunflower seed oil, potato starch, tricalcium phosphate
User Review: "My dog goes crazy over this. She has an extremely sensitive stomach. This doesn't bother her at all. We feed her 2 cans a day. She's a 10 pound Shi Tzu."
Bottom Line: Weruva grain-free canned dog food is different because it boasts a unique shredded chicken consistency. You can use this wet food as a treat, food topper or meal in itself.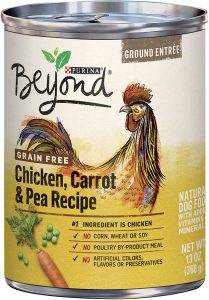 Purina Beyond grain-free canned food is crafted with a blend of peas and carrots. This ground entrée is suitable for pups with sensitive stomachs.
Notable Qualities and Features:
Chicken is the first ingredient.
Grain-free and made without poultry by-product meal.
Made with recognizable and trusted ingredients.
Available in a wide variety of delicious flavors.
Top Ingredients: Chicken, Chicken Broth, Liver, Carrots, Peas, Minerals [Potassium Chloride, Zinc Sulfate, Ferrous Sulfate, Copper Sulfate, Manganese Sulfate, Potassium Iodide, Sodium Selenite], Guar Gum, Salt, Carrageenan, Choline Chloride, Vitamins
User Review: "Finally! A reasonably priced and grain-free healthy dog food from a trustworthy source, Purina, for both our Chihuahua mix and Beagle. Our veterinarian suggested that we feed our rescue Beagle a grain-free food who tends to have allergies these days. Tried other canned foods that fit the bill, but this is the first food that they actually get excited about (wagging their tails) when I open the can!"
Bottom Line: Purina Beyond grain-free canned dog food is made with wholesome vegetable accents to make meal time exciting. Pet parents can take comfort in knowing that their canine companion is ingesting a hearty, nutritious meal.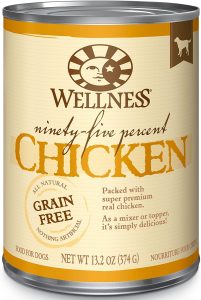 This canned dog food is a limited ingredient recipe, which can be helpful for dogs with allergies and sensitivities.
Notable Qualities and Features:
Crafted with high quality, real chicken.
Made with limited ingredients for sensitive dogs.
Cooked in the can to lock in freshness and flavor.
Wellness is a premium dog food brand.
Top Ingredients: Chicken, water sufficient for processing, natural flavor, cassia gum, carrageenan. (This is a complete list of ingredients)
User Review: "Super happy with this food. Ingredient list is great and it doesn't trigger my dog's allergies. Love that it is limited ingredient and grain-free."
Bottom Line: This Wellness natural canned dog food is a premium option, and it comes with the price tag to match. However, this food offers your pup whole-body support. Wellness food is made to promote skin and coat health, as well as nourish the eyes, teeth and gums.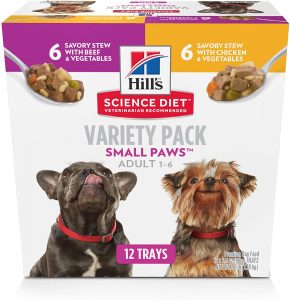 This is our top canned dog food pick for the smallest furry friends! Consider this food if you have a small breed at home.
Notable Qualities and Features:
Specifically made for small breed dogs.
Small, easy-open trays help avoid wasting food from a large can.
Contains balanced minerals to promote dental health.
Available in two protein varieties.
Top Ingredients: Water, beef, pork liver, brown rice, carrots, modified rice, starch, wheat flour, potato starch, dried beef pulp, pork plasma, potatoes
User Review: "Our little female Chihuahua loves these little cups when we use them as an alternate when she is being finicky."
Bottom Line: For small breed dogs, we suggest considering this terrific option from Hill's Science Diet. The trays of food are appropriately sized, and Hill's is a #1 veterinary recommended dog food.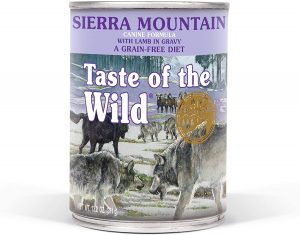 Real duck is the #1 ingredient in this tasty stew for dogs. This recipe provides optimal nutrition for any dog!
Notable Qualities and Features:
Made with a blend of superfoods, vitamins, minerals and antioxidants.
Created from trusted, sustainable sources.
Sweet potatoes act as a natural digestive aid.
Five different flavor options.
Top Ingredients: Duck, duck broth, chicken broth, fish broth, chicken liver, chicken, dried egg whites, potatoes, peas, dried egg product, potato starch, roasted duck, roasted quail, smoked turkey, ocean fish
User Review: "My little Havanese has lost most of his teeth from genetic bad gums. So the vet said to feed him soft food now. I used to feed him Taste of the Wild Pacific Stream dry food, so I bought the can version. WOW!! That little guy loves this canned version much more, and licks the bowl clean."
Bottom Line: You can feed this complete and balanced formula as your dog's sole diet. It's made with fowl to offer an unmatchable taste sensation. A blend of duck, quail and turkey provides top-notch amino acid nutrition.
What to Look for in a Good Canned Dog Food
Not all canned dog foods are created equally. There are a handful of factors to consider when picking out the best canned food for your pampered pooch.
Life Stage
Some canned dog foods are suitable for pups at any life stage, from puppy to senior. Others are most appropriate for a specific age range, such as puppy, adult or senior. Be sure to look at this before purchasing canned food.
Main Protein
Popular canned dog food protein sources include chicken, lamb, beef, duck and turkey. Some proteins are more digestible than others. Furthermore, it's not uncommon for dogs to have poultry sensitivities. If that's the case for your pup, choose food without poultry and poultry byproducts.
Digestible Ingredients
For dogs with allergies and sensitive stomachs, it may be a good idea to go with grain-free canned food. There are also limited ingredient options, as well as natural formulas.
Cost
Canned dog food can get expensive! It's important to choose a wet food that is great for your dog, but we understand that most pet parents are on a budget. Our list includes canned dog foods for all budget ranges.
Consistency
Canned food can come in several different consistencies including pate, stew, shredded or chunky. Pate style may be best for senior dogs, or those with limited teeth. Sometimes chunky bites can be too big for small dogs to safely ingest. Thankfully cans of wet food typically include a photo of the food on the label, or the consistency is described in the text.
Special Diet
There are canned dog foods made especially for certain health concerns. Special diet options include weight management, hip and joint support, senior dog, puppy, sensitive stomach and urinary tract.
Conclusion
Feeding your dog canned food can be beneficial because they generally contain more meat protein than dry foods. The water content is also higher in case your canine friend has kidney or urinary tract concerns.
There are a diverse amount of ways to offer your dog canned food. It can be a sole meal, topper, snack, or you could even fill a Kong with it and put it in the freezer for long-lasting fun.
Remember to slowly introduce new food to your dog to ensure your dog does not have an allergic or negative digestive reaction to it. Contact your veterinarian if you are concerned about your pup's overall health and wellbeing.