Last Updated on
Just so you know, this post may contain affiliate links. This means if you make a purchase through links on this page, Canine Weekly may collect a share of the sale or other compensation. As an Amazon Associate, we earn from qualifying purchases.
Male German Shepherds can weigh 100 pounds or more. Even smaller females are incredibly strong. That's why it's crucial to find German Shepherd collars that will specifically meet the demands of this large dog breed.
There are many different types of dog collars to choose from. That's why we've created this guide. We want to help you find exactly the best German Shepherd collar for your specific needs.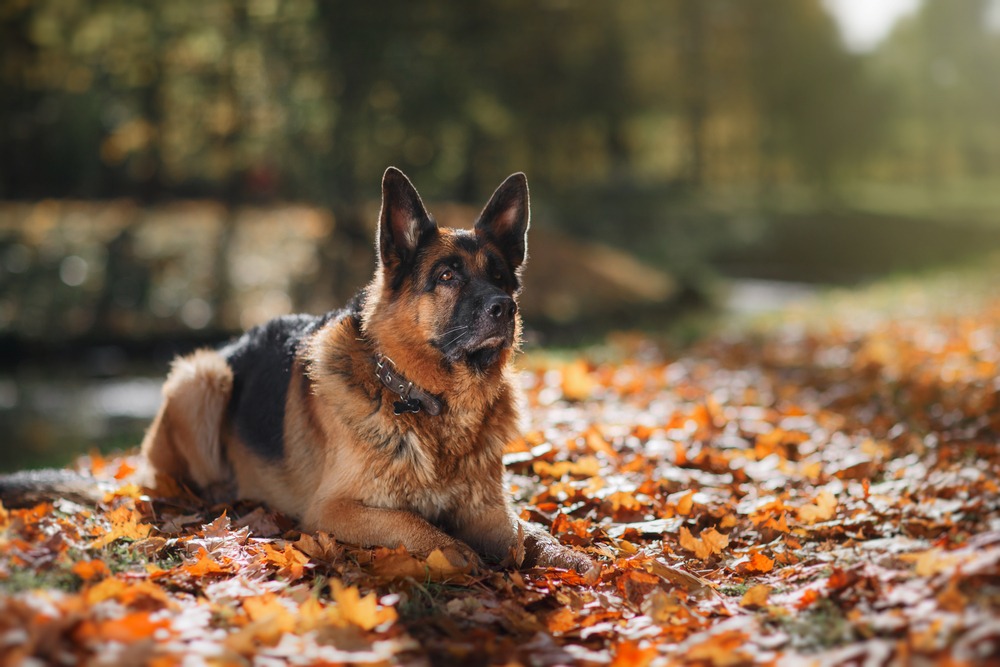 Types of Collars for German Shepherds
There are many different types of collars appropriate for a German Shepherd. To choose the right collar for your German Shepherd, you need to understand the benefits and challenges of each type.
Martingale Collar
German Shepherds are shaped differently than many other dog breeds. With a wide, muscular neck and a small, pointed head, it's easy for a German Shepherd to back right out of a normal collar.
A martingale collar is made primarily of fabric or nylon. It tightens when you or the dog put pressure on the collar.
The collar isn't intended to "choke" your dog. Instead, it allows you to give small corrections to remind your German Shepherd to heel. It also makes it harder for your dog to back out of the collar compared to traditional collars.
Standard Flat Collar
When you think of a basic dog collar, you probably picture a standard flat collar. This can be the cheapest type of collar, and it's usually made of nylon or fabric.
It may not be ideal for walking your German Shepherd. However, it's perfect for holding your dog's tags while you use a different type of collar for walking your dog.
Leather Collar
Leather collars are smoother than fabric or nylon collars. It's less likely to irritate your dog's skin or cause matting on the fur around the neck. Leather collars also look much nicer than many other collar types.
Reflective Collar
If you walk your German Shepherd in the dark at all, you know that it's crucial for you and your dog to be highly visible. A reflective collar catches the light (like a car's headlights) and reflects it. That makes your dog easier to see in the dark.
Headcollar
For dogs that are strong pullers, a head collar can be a great way to control your dog. Rather than a harness or traditional collar, a headcollar, as the name implies, controls your dog's head.
A headcollar makes it easier to draw your German Shepherd's attention back toward you and away from small animals or other distractions. Headcollars also help control pulling. One downside to head collars is that it can take a while for dogs to get used to it.
Tactical Collar
Military, police, and other dogs that do bite work need a collar with a handle on it. Sometimes you just need to be able to control your dog from the collar level without grabbing the collar itself.
Tactical collars have handles on them to help maintain control of German Shepherds. They also tend to be made from stronger materials than other collars and should last longer.
Training/Choke Chain Collar
Training collars, sometimes called choke chains, are widely misused. However, when used properly and under the supervision of a professional trainer, they can be a great tool to help your German Shepherd learn how to walk on a leash without pulling.
These collars are generally made of metal chain links in a loop that tightens when you or your German Shepherd pull on the leash. There are chain lengths of varying sizes and thicknesses to get the right amount of control.
You shouldn't let your dog pull on a training collar and choke themselves. The chain should fit around the middle of your dog's neck. When your German Shepherd does a behavior you don't like, you give a short, sharp tug on the leash to get your dog's attention.
Prong Collar
Some German Shepherds are too stubborn to learn from a traditional "choke chain." That's where the prong collar comes again. This collar should definitely be used under professional supervision because it can injure your dog if used inappropriately.
Instead of chain links, a prong collar is made of interlinking prongs that pinch your dog's neck when you give a short tug on the leash.
Slip Lead
If you want the benefits of a traditional training collar without the scary-looking metal, a slip lead may be right for you and your dog. A slip lead still allows you to provide corrections to your German Shepherd, but it's made of rope or another fabric, so it's gentler.
E-Collar/Shock Collar
There is a lot of controversy surrounding the use of e-collars, also known as shock collars. They can be downright cruel if used inappropriately. However, they can be a good training tool for dogs that work off-leash or are exceptionally stubborn.
An e-collar is not for everybody, but we've included it on our list for those who are looking to go that route.
What about a Harness for my German Shepherd?
Some people think that switching from a collar to a harness will reduce pulling, or at least improve your ability to control your dog when they pull. In reality, harnesses may encourage your German Shepherd to pull harder!
Unless your German Shepherd has a collapsing trachea or other neck problems, harnesses may not the right choice for German Shepherds. If you do opt to go with a harness, fine one where the leash attaches at the front, rather than the back, of the harness.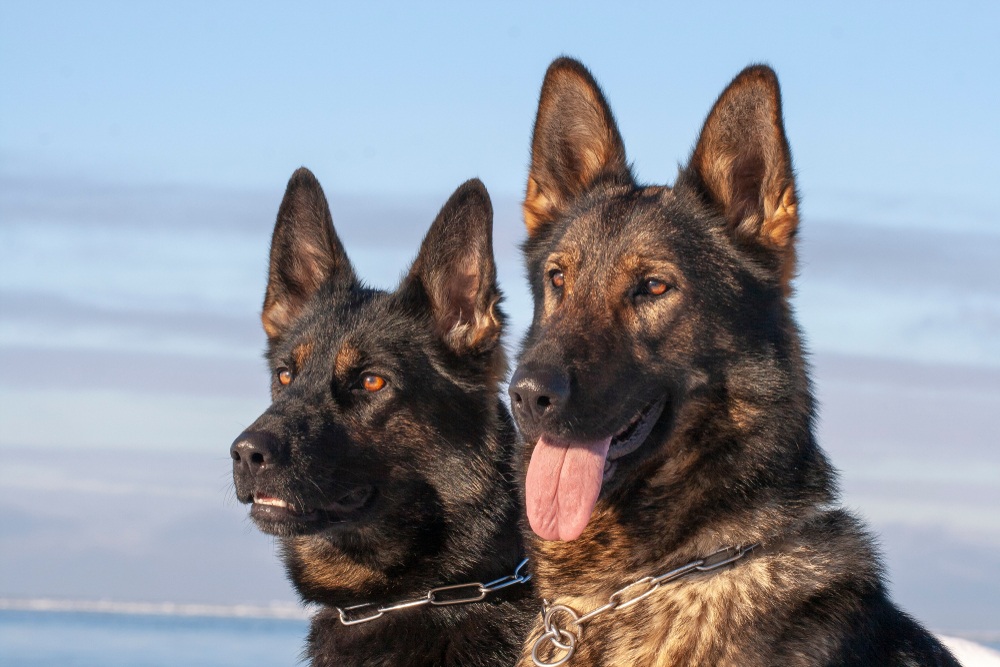 Best Collars for a German Shepherd
Since there are so many different types of German Shepherd dog collars, we chose our favorite collar in each category.
[Best Martingale Collar]

About: This collar is a simple nylon martingale collar that's affordable and comes in a variety of sizes and colors. Unlike some martingale collars, which need to be slipped over the dog's head, this one has a buckle to make it easier to put on and take off.
Notable Characteristics and Features:
Prevents dogs from backing out of their collar
Recommended by vets and trainers as the top design for daily wear
Made from durable, high-quality nylon
User Reviews: Most of the complaints about this product revolve around confusion about the sizing. You need to pay attention to the tightened length of the collar, not the loose length when deciding which size will fit your dog. Other complaints are that the product didn't last more than a few months. At this price point, though, most people could afford to replace it.
People who got the right size, however, left glowing reviews about how their dog can no longer back out of their collar. After a few attempts, the dog doesn't even try anymore. The plastic buckle makes it easier to put on and remove.
Bottom Line: Order a size down from what you think your dog will need, and this should be the perfect martingale collar for your German Shepherd. At this price point, however, don't expect it to last forever. Remember to only use a martingale collar while walking your dog and take it off at home.
[Best Standard Collar]

About: This padded flat collar is a comfortable choice if you're looking for a traditional collar. It comes in many different colors and sizes, so you're sure to find the look you like at a size that fits with a price you can afford.
Notable Characteristics and Features:
Soft, breathable mesh padding
Easy Snap-On buckle
Owned and operated by a retired US Navy veteran
User Reviews: Owners of small dogs complained that the collar was too thick. A handful of other reviews complained about quality control issues. However, the vast majority of customers are thrilled with this product, with the word "great" appearing many times in the reviews.
Bottom Line: If you're seeking a basic, affordable German Shepherd collar, this is an excellent choice.
[Best Leather Collar]

About: For a genuine leather collar, it's hard to beat the price and comfort of the Soft Touch collar. The inside of the collar has sheepskin leather padding for added comfort. There is a small ring by the buckle for the tags – no more trying to force the tiny ring onto a large D-ring.
Notable Characteristics and Features:
Lifetime guarantee
Small ring for tags
Naturally tanned with no harsh chemicals or dyes
User Reviews: There are a handful of reviews complaining about sizing or the leather collar breaking. However, this collar is VERY highly rated, and the handful of complaints are overwhelmed by the number of people who absolutely love this collar. The customer service was also widely praised.
Bottom Line: There is a small chance that the collar or D-ring will break. However, the greater likelihood is that this will be an excellent leather German Shepherd collar.
[Best Reflective Collar]
View Latest Price
About: Not only is this collar reflective, but it's also customizable. You pick the collar color and thread color, then you can have your dog's name and your phone number embroidered on the collar. Now you don't have to worry about your dog's tag falling off.
Notable Characteristics and Features:
Fully customizable
Highly reflective
Nylon webbing has smooth, tapered edges for comfort
User Reviews: Several people complained about the buckle breaking under strain, and some people complained that the embroidery wasn't readable after a few months. However, most people love this collar and say that it is highly reflective.
Bottom Line: If your German Shepherd pulls on the leash, this probably isn't the right collar. If you use another collar with a leash and just use this one for tags, it should be perfect.
[Best Headcollar]

About: The Gentle Leader is the original headcollar. It was designed 30 years ago by a veterinary behaviorist to help control dogs on a leash without risking damage to their neck or throat. It's more adjustable than many other collar types and safely controls unwanted behaviors.
Notable Characteristics and Features:
1-year chew damage replacement (for a minimal fee)
Recommended by vets and dog trainers
Safe solution for pulling
User Reviews: Some reviewers complained about this product breaking quickly. Most people, however, are thrilled with the Gentle Leader, using words and phrases like "game-changer," "fantastic," and "amazing."
Bottom Line: You may want to attach a second leash to the collar for the first week or so to make sure the Gentle Leader doesn't break. Apart from that, it's a great training tool that should help your German Shepherd not to pull on walks.
[Best Tactical Collar]

About: This heavy-duty tactical collar is perfect for working dogs. It includes a handle to control your dog from the collar and comes in neutral colors, including black, camo, brown, and green.
Notable Characteristics and Features:
Has a control handle
Has a Velcro "magic sticker" to attach patches or a name tag
Made of high-quality 1000D nylon and a heavy-duty metal buckle
User Reviews: There are a few complaints about the collar irritating their dog's neck (mostly on short-haired dogs) and a few quality concerns. However, most people love how durable this collar is. One Marine even commented that it's made of the same material as his gear.
Bottom Line: If you're looking for a tactical collar for your German Shepherd, this is probably your best bet. It can be difficult to adjust at first, but it's quite durable when properly adjusted.
[Best Training Collar for a German Shepherd]

About: This is your basic choke chain dog collar. Nothing fancy, but it's durable and won't rust.
Notable Characteristics and Features:
Argon welded and chrome plated for maximum strength and durability
Will not tarnish, rust, or break and recommended for professional training
Excellent for gentle control
User Reviews: Some people complain that the chain isn't thick enough. However, most people had great success using this training collar to get their dog to walk nicely on a leash.
Bottom Line: If you're looking for a basic choke chain collar, this one is affordable and comes highly-rated.
[Best Prong Collar]

About: This prong collar is steel chrome plated and features safety ends for the safety of the dog and the owner. It's your basic pinch collar.
Notable Characteristics and Features:
Center plate allows for even pressure/correction
Features safety ends for the safety of the dog and the owner
High-quality, steel chrome plated
User Reviews: Most of the complaints are from people who claim they received a counterfeit product rather than a genuine Herm Sprenger prong collar. These complaints are completely overwhelmed by people raving about how they can FINALLY walk their dog.
Bottom Line: When used properly, this prong collar can be an excellent training tool. Inspect it when you first receive it to make sure it's genuine, then watch plenty of videos before you start using it.
[Slip Lead]

About: If you want to just slip a lead around your dog's neck and be on the go in a hurry, this is the slip lead you've been looking for. It comes in a variety of colors and has a leather snap to control the size of the "collar" end of the lead.
Notable Characteristics and Features:
British-style slip lead is a leash and collar in one convenient design for walking and training
Soft on the hands with a "broken-in" feel that is easy to use and pliable enough to roll up
Adjustable to fit any neck size with the oil-tanned leather snap that controls the collar diameter
User Reviews: Some people complain that the collar is either too loose or not loose enough. Most people, however, love this slip lead and enjoy walking their dogs again.
Bottom Line: Training your dog with this slip lead can be just as effective as (but gentler than) a choke or prong collar. Used right, your German Shepherd can be walking nicely in no time.
[Best Shock Collar for German Shepherd]

About: Both the collar and transmitter on this e-collar are waterproof and tested in all sorts of weather conditions. In addition to light shocks, you can train your dog with beeps or vibrations. It works within a range of 500 yards.
Notable Characteristics and Features:
Can be used to train 3 dogs with the same Remote Transmitter with purchase of additional Add-A-Dog Collars
7 levels of static correction as well as vibration or beep
Rechargeable lithium-ion batteries charge in 2 hours and last 50-70 hours per charge
User Reviews: Like any product, some people received defective products. However, when the collar works, it works WELL. There are plenty of rave reviews from people who say it's like having a brand-new dog.
Bottom Line: If you're in the market for a shock collar, this may be the best shock collar for large dogs you can find. As long as you don't receive a defective unit, it can be an effective way to train a stubborn dog.
Wrapping Up The Best German Shepherd Collars
Finding the right collar for your German Shepherd can be tricky. Hopefully, we've given you the advice you need to find just the right collar for you and your dog.
German Shepherds are very strong and can be stubborn. It's always a good idea to get the help of a professional dog trainer to teach your dog to walk nicely on a leash.
You May Also Like…
Best Harness for German Shepherds: 6 Top Picks
How to Train a German Shepherd Puppy
5 Best Wide Dog Collars for Large Dogs
When Does a German Shepherd Stop Growing?